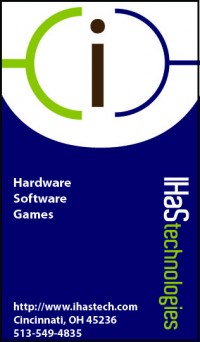 iHas Technologies is a group of talented developers and computer hardware experts. With over 30 combined years of web/application experience, we can help you with all of your development needs. We can also build custom hardware solutions to fit your needs.

Web Development:
iHas Technologies can attend to all of your web development needs. With help from our collaborative, let us give you a website that is functional as well as pleasing to the eye.

Gaming:
iHas Technologies' true future lies in the world of gaming. We can design and implement games for the PC and for the web. In the future, we will develop for consoles.

Hardware:
Specializing in small, low power use computers, iHas Technologies has a solution. Workstations, Home computers, Point of Sale, Gaming systems, Home Theater PCs, Servers and more.